Oxford Crane – Dedicated Service to the Midland/Odessa area and the entire Permian Basin
Crane service serving Midland, Odessa and the entire Permian Basin in Texas with a crane fleet that includes Mobile Hydraulic Cranes and All Terrain Cranes. The capacities range from 28-ton Truck cranes to 300-ton All Terrain cranes. Our field personnel include certified operators, riggers and signal persons.
'Safety, Service, & Dependability' is our motto.
We offer 24/7 emergency services. Give us a call today.
For more on our services, visit: Services.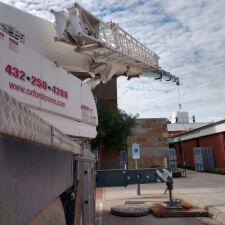 Midland/Odessa and the Permian Basin
P.O. Box 53452
Midland, TX 79710
(432) 250-4288
24/7 Emergency Service Available